Over 80% of customers consult their phones before making a purchase. Another 45% read reviews before they buy. Without an effective online marketing strategy, you're missing out on those customers.
That's where SEO and SEM marketing step in.
What exactly are these strategies, and what's the difference between SEO and SEM? Keep reading to find out!
In this guide, we'll review everything you need to know before you start using SEO and SEM. Give your business the boost it needs with this guide on SEO and SEM marketing!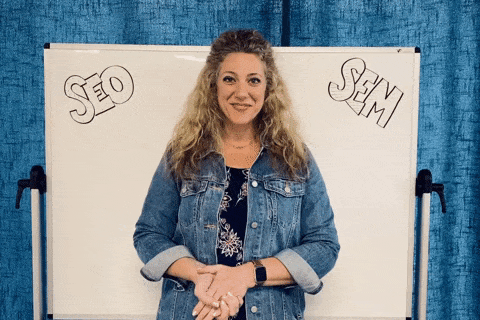 What Is SEO?
Search engine optimization (SEO) allows your website content to rank on search engines like Google. A higher ranking will help more consumers see your business. As a result, you'll attract more website visitors, boost your brand, and more.
In order to rank higher on search engines, you'll need to optimize your website content.
Google's search algorithm changes throughout the year. There are many different ranking factors that impact your position on search engine pages.
The Benefits of SEO
There are many ways SEO can help benefit your business. For starters, it can help you build brand awareness. The more often people see your website, the more likely they'll learn to recognize your brand.
Once you've built brand recognition, consumers will associate your business with your industry before thinking of anyone else.
SEO can also help you attract more website traffic. Once people are on your website, you can encourage engagement. For example, you can use your content to encourage comments or to start a chat with visitors.
On-page engagement can further benefit your SEO ranking.
A higher ranking can make you look more credible too. Improving your brand's reputation will make it easier for you to compete in your industry.
SEO is a long-term strategy. It's also cost-effective, allowing you to improve your ROI in the process!
On-Page and Off-Page SEO
In order to improve your ranking, you'll need to establish and on-page and off-page SEO strategy.
On-page SEO involves optimizing your website. These ranking factors can include:
Your page speed load-time
Title tags
Incorporating target keywords
Image alt tags
Well-written and researched blog posts
Mobile-optimization
Social sharing integration
More people are using their smartphones to complete searches on Google. In response, Google began using mobile-first indexing to determine page rankings. If your website isn't optimized for mobile devices, you're missing out on customers.
Off-page SEO, on the other hand, requires tactics off your website. That can include:
Optimizing your social media profiles
Sharing content
Updating your Google My Business listing
Link building
Gaining attention from social bookmarking websites
Remember, the SEO algorithm changes throughout the year. As a result, you'll need to remain up-to-date with the latest SEO trends to improve your ranking.
Local SEO
You'll also need to consider your local SEO strategy. Local SEO allows you to appear in front of more local customers. By boosting your local SEO ranking, you can get more customers through your doors.
Local SEO is fast and easy. In fact, you can get started on improving your local SEO ranking on your own.
Local SEO also makes it easier for people to reach their local customers. When a nearby consumer searches for your product or service, your website will show up. Your content can then encourage consumers to visit your store to see your products in person.
As a result, local SEO can help you increase immediate sales. In fact, 18% of local searches lead to sales.
What Is SEM?
Search engine marketing (SEM), on the other hand, incorporates multiple strategies. In fact, SEO is a part of SEM marketing.
SEM refers to marketing activities that involve search engines. Those strategies often refer to SEO and pay-per-click (PPC) advertising. PPC allows you to display digital ads on search engines like Google or social media platforms like Facebook.
Other forms of SEM include remarketing, shopping advertising, and display advertising.
Remarketing allows you to use cookies to display ads to people who have already visited your website. With remarketing, you have a second chance in front of potential customers. You can use remarketing to increase repeat sales too.
The Benefits
SEO can take time. SEM, however, often has an immediate impact.
With PPC advertising, you're in complete control of your campaigns. You decide how much money you want to put into your advertising. You can also choose where your ads will appear.
SEM can make it easier for you to reach a broad target audience. However, it's easy to make mistakes with SEM if you lack experience. As a result, you might spend more of your marketing budget than intended.
By using SEM, you can boost sales immediately. You can also track your data to make immediate changes for optimizing your campaigns.
What's the Difference?
What's the difference between SEO and SEM?
For starters, SEO is an organic strategy. That means you don't have to pay, making it the more cost-effective between the two.
SEM, on the other hand, requires paid advertising tactics.
Both SEO and SEM allow you to attract more people to your website. SEM, however, is better for precise targeting. You can choose who to display ads in front of, based on demographics like age and gender.
SEO is better for long-term results. Once you improve your SEO ranking, you can maintain that ranking over time. However, SEO ranking factors change regularly too.
SEM tactics like PPC, on the other hand, stay relatively the same. However, you'll need time and expertise to develop a strong SEM strategy. Otherwise, you could end up making costly mistakes.
Now that you know the key difference between SEO and SEM, let's talk about the main similarities.
Both help you reach customers online. As you attract people to your website, you have a chance to convert those consumers into leads. Then, you can convert those leads into paid customers and grow your business!
The Search Is Over: Understanding the Difference Between SEO and SEM
Ready to grow your business? Now that you understand the difference between SEO and SEM, you're halfway there. Start using these inbound marketing strategies and give your business a boost today!
Eager to get started? Contact us today to simplify your marketing.
Download our free ebook which we've already curated some of the latest digital marketing trends and ideas that you can start using today.